If you've stumbled upon this article either through my emails or one of my websites, you may be in the company of millions of others wondering one of a few similar things as you:
Is Swagbucks legit?
Is Swagbucks safe to use?
Is it worth my time?
Can you actually make money with Swagbucks?
These are all very valid questions to be asked. And they are questions that you should probably know the answer to before you download the Swagbucks app. This is especially true if you intend to use it to make possible purchases.
In this Swagbucks review, I am going to try and address all these questions and more.
I will also be covering a few Swagbucks hacks that actually work, so that you can make the most money through the Swagbucks app in 2019, should you choose to use it.
Is Swagbucks both safe to use and a legit company?
The short answer to both is yes. Swagbucks is legit and it is most definitely safe to download on your phone and use. I have had it downloaded onto my phone for years and it has never caused me any problems nor anybody I else I know who has the app as well.
But you are most likely looking for a little more reassurance than that, so here's what I will tell you about Swagbucks:
I have actually been using the Swagbucks app for around three years now, and when I cash out my points for prizes (I usually prefer a Paypal transfer), I actually get said prizes.
As of the date I wrote this, Swagbucks has paid their members almost $241 million dollars, and they hand out over 7,000 gift cards every single day. We're not talking about your typical paid survey site. Swagbucks is one of the largest, if not the largest online rewards program. And that is not by accident. They really are a cut above the rest in a lot of regards.
Swagbucks Review BBB
Swagbucks actually holds an A-rating with the Better Business Bureau (BBB) with over 13 years of continuous business served. That is well over a decade!
Because of this alone I would argue that It's safe to say legitimacy and safety are not concerns here.
How does really Swagbucks work?
Earning with Swagbucks is a pretty straight forward strategy. In addition to their generous cashback programs, users can complete simple little tasks in order to earn what is called "Swagbucks".
If you collect enough points (Swagbucks), you can cash them out for cool prizes.
Most commonly these are gift cards to your favorite retailers (Amazon, Walmart, Target, etc.). You can also cash out your Swagbucks, in $5 increments, to a linked PayPal account.
This is going to be perfect because we will be using some of our money we get deposited into Paypal for some certain traffic sources so make sure you keep a few transfers from Swagbucks sitting in your Paypal, OK?
Swagbucks Sign Up
When you sign up for a free Swagbucks account, you'll get a $10 welcome bonus. You can choose from a variety of methods (like, at least seven of them) to earn more Swagbucks:
Take surveys
Shop online
Swagbucks search
Watch videos
Play games
Discover deals
Buy gift cards
Swagbucks sign up is very quick and easy. You can even start earning instantly!
And don't worry, there are actually lots of other ways to make money with Swagbucks as well.
How to Make Money with Swagbucks Surveys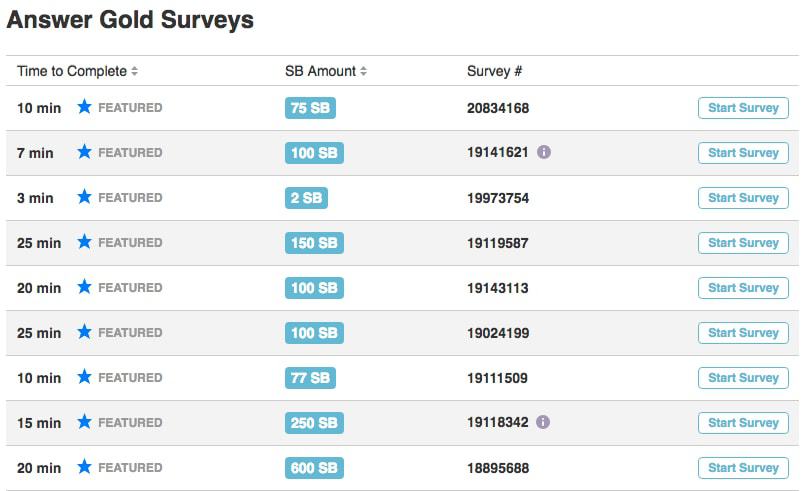 Taking paid online surveys is one of my favorite ways to get a few extra Paypal deposits with very minimal effort. I mean, sitting on your couch, bundled up, watching Netflix and answering simple questions? It's just seems almost too easy.
When it comes to typical, online surveys, Swagbucks pretty much takes the cake here, as well. When you create your Swagbucks account, you will be asked to enter some general demographic information about yourself and your household (age, income, interests, etc.).
Then, Swagbucks will then send you the surveys they believe are a good match for you.
A quick hint here: Even though it may seem like a good idea to lie in order to qualify for more or higher-paying surveys, I would strongly advise against it. Swagbucks is actually pretty clear where it stands on this issue:

Swagbucks surveys are worth anywhere from 1 to 1,000 Swagbucks, depending on the length and value of the survey.
Another interesting feature that makes Swagbucks stand out amongst other paid survey sites is the accessibility. The website they use is very clean, simple, and there's an app for both Android and iOS device as well. This means you can even earn Swagbucks on the go!
Using Swagbucks for Cash Back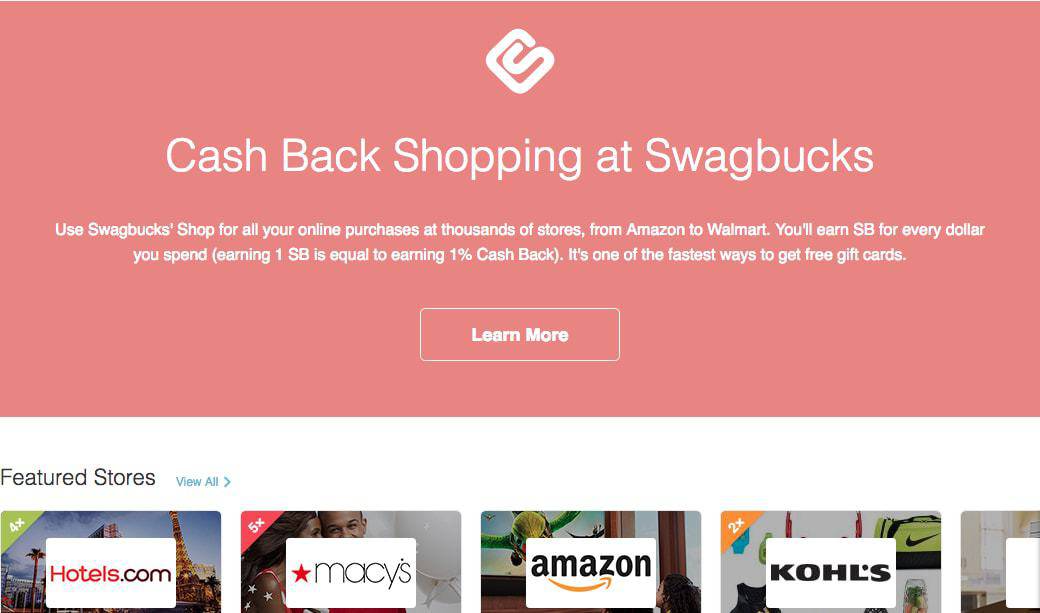 Shopping online with Swagbucks is a lot like using Ebates. Just sign in to the platform, click on the partner store you want to shop with, and do your shopping per usual.
Related: Ebates Review 2018: How Does the Cash Back App Work? Is it Legit?
Swagbucks offers cash back on over 1,500 stores, including large retailers like Amazon, Kohl's, Starbucks, Groupon, and more.
But seriously, that's a lot of stores.
You'll get up to 20% cash back in the form of SBs for every dollar you spend. I say up tobecause that's obviously the maximum. Most stores are closer to the 5-8% range.
Get Paid to Surf the Web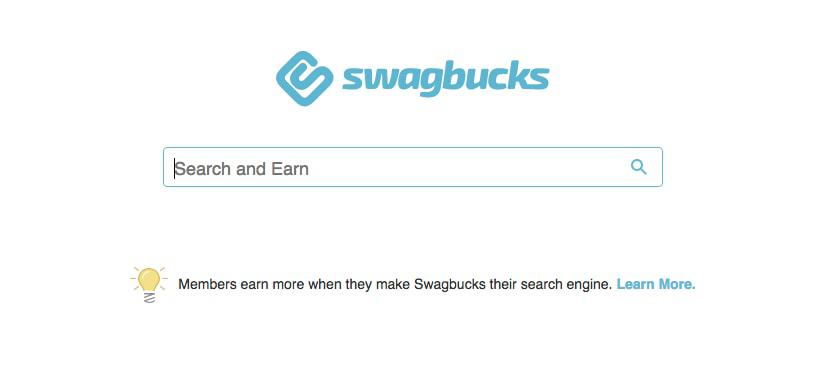 Swagbucks' search engine is powered by Yahoo. So if you already use Yahoo for your Internet browsing, you can earn money with your searches without making any drastic changes.
I wish I could give you an exact dollar figure as to how much you earn with your searches, but the truth is, it's sort of a mystery.
You'll know you're making money because Swagbucks will tell you when you earn points. Other than that, all the world knows is that points are awarded based more on the time you spend using the search tool, not the number of searches you perform.
The good news? You can make Swagbucks your default search engine and make money doing your regular, day-to-day browsing.
Play Games

If games are your go-to form of entertainment in your downtime, then why not get paid for it? 
Swagbucks has a ton of free and popular games, like Solitaire, Bingo, Wheel of Fortune, Bejeweled, Deal or No Deal, Tetris, and Trivial Pursuit, just to name a few.
The payout for games isn't as much as some of their other earning methods, but if you're going to play anyway, you might as well make some money while you do it.
Hack #1: Get your kids to play them for you. If none of those sound appealing to you, you can always let the minions do the earning for you.
Watch Videos

One of the things I wanted to do in this Swagbucks review was highlight one of the easier ways to make money with that many people don't know about. Believe it or not, you can actually earn 1-4 SBs by watching short videos in a number of categories, including health, music, politics, entertainment, and others.
Let's be real here — nobody has time to sit glued to a screen watching 20 videos for $0.04.
We're definitely not suggesting you do.
Here's my little secret: I like to put SB videos on in the background when I'm doing work (like right now). That way I can earn a little money towards that next Amazon gift card with zero effort on my part.
Don't hate me, Swagbucks!
Discover Deals

Every time I visit the Discover section of Swagbucks, I'm always amazed at just how many ways you can earn with this site. Swagbucks offers deals on just about anything.
For example, right now you can earn 272 Swagbucks just for signing up for a free trial of Hulu. Or get 500 Swagbucks (i.e. $5) and $30 off your first order with the meal delivery service Blue Apron.
If you're thinking about trying any new service, be sure to get your free cash back by signing up through Swagbucks!
Buy Gift Cards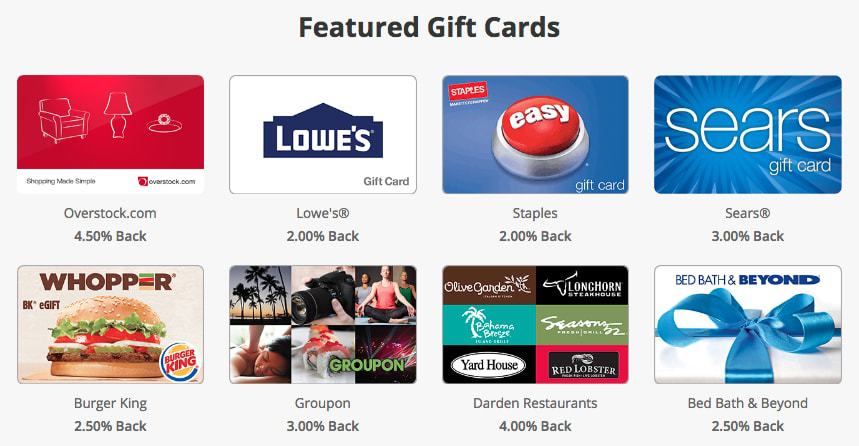 This one shouldn't need that much explaining. But I do have another handy tip you might find useful.
Hack #2: So when you buy electronic gift cards through Swagbucks, you actually get a percentage of the gift a card value back in the form of SBs. You'll see the gift card in your email inbox in 1-2 business days, at which point you can turn around and use it to shop on Swagbucks.
Boom! Double points.
Pros and Cons of Swagbucks
If you can't tell, I kind of love Swagbucks. But I know nothing is perfect, and I won't pretend like everything is just puppies and rainbows. When it boils down to it, here's what I like and dislike about Swagbucks:
Pros of Swagbucks
Completely, 100% free to join
Wide variety of ways to earn
Simple, clean website with awesome mobile apps
Relatively passive money without making any drastic changes
Cons of Swagbucks
Earning SBs can be a slow process
No one knows exactly how search points work
Generally, I believe there are definitely more pros than cons. However, it also depends on how you plan to use it…
Is Swagbucks worth your time?
If you've made it this far into our Swagbucks review, you've probably caught on to the fact that there are two main types of Swagbucks users:
The Casual SB Earner: Runs videos in the background, takes the occasional survey, and earns points by purchasing gift cards and shopping online.
Swagbucks is awesome for these users. They're not doing much different than what they normally would, and they earn the occasional gift card that makes what little effort they do put forth worth it.
The SB Points Chaser: Wants to earn as many SB as possible as quickly as possible. Spends hours on the website at a time watching videos, taking surveys, and raking in the pennies any way they can.
When I first started using Swagbucks, I was this kind of user. But I quickly learned this is not the way to approach this tool. Swagbucks can still be a great fit for these users if they accept the fact that Swagbucks is not going to make them rich.
There are other ways to make $100 fast. Swagbucks is not one of them.
Wrapping up our Swagbucks review
Swagbucks probably isn't your path to financial freedom, but it's an awesome tool for the casual user. There are several ways to make money online doing things you'd be doing anyway (like searching the web, playing games, and shopping).
If you're not using it, you're probably missing out on a good bit of free cash (and that seems silly).
Even if it's a few hundred dollars per year, that's money that could go towards paying off a debt, financing a vacation, or pay for that extra special Christmas present for someone you love. Do yourself a favor and sign up for Swagbucks.
If you would like a step by step guide of how to create a Plug-N-Play Cryptocurrency portfolio built from Bitcoin, Ethereum, Litecoin and many other quality coins (some of which that pay you just to own them!), click the banner below:
Dan Watson and Arkham Industries provide an informational service only and are not responsible for any investments made applying this information. The results described are not typical and are not guarantees of future income. Any investment contains risk and is 100% the responsibility of the investor to assess the risks/rewards involved. It is possible to lose some or all of your investment. We assume no liability assumed or implied for your application of the information shared from the training programs.
I am not a financial adviser and for that reason, nothing I say or write should be taken as financial advice. This information is for informational and entertainment purposes only. I am not the owner of any of the programs mentioned on this website. I am also not connected to the presented websites in any way, shape or form. There is risk involved in trading, mining, lending, staking and investing in cryptocurrency. So any previous payments made by any website or an investment fund do not guarantee that payments will be steady and regular in the future. I am not responsible if a website does not pay out or shut down at anytime. So Join at your own risk. This information is created as per my personal experience. I do not take any responsibility for any losses that may occur. I do not give any financial advise.
Earnings and Income Disclaimer. We make every effort to ensure that we accurately represent these products and services and their potential for income. Earning and Income statements made by its' customers and/or I are only estimates of what we think you can possibly earn. There is no guarantee that you will make these levels of income and you accept the risk that the earnings and income statements differ by individual. As with any business, your results may vary, and will be based on your individual capacity, business experience, expertise, and level of desire.