Let's talk about direct and passive advertising…
There are two forms of advertising you must have if you are going to have a marketing machine that functions properly…
"Direct" and "Passive" advertising.
Direct advertising is the type of marketing you must be activity doing to get results. While this approach can generate instant results, once you stop doing it, the results stop.
Passive advertising is a marketing method that does the work for you over a longer period of time and doesn't require your daily involvement.
Trying to build an online business by ONLY using one of these two advertising methods will be an uphill battle for sure.
Banner advertising is one of the best forms of "passive" advertising there is. Not only can you gain sign ups over time…. you can use names, colors, and slogans to brand pretty much anything you want.
Buckets of Banners can be the "passive" advertising system you've been looking for.
With an extensive network of banner partners, you can "set and forget" your banner ad up and gain sign ups to your business with a level of ease not accomplished in other forms of advertising.
Join B.O.B. now and get your marketing machine firing on all pistons!
Who Is BoB The Bucket? The Beginnings…
It was April 1, 1995 when BoB The Bucket made his way in to this world. His parents, Ice and Ima Bucket were well respected owners of the world famous "Beer Buckets-R-Us factory in Canister, Idaho.
Before he was born, Ima had big dreams of BoB taking over the family business when he grew up. Little did she know that BoB's destiny was to become an icon in the internet marketing industry and he would be known all over the world.
Ice and Ima where thrilled when BoB was born but they also noticed something very different about BoB. He was born blue instead of the standard red color. They had concerns about how the other kids would treat a blue bucket and would it make him stand out and get picked on when he was old enough to go school.
They had no idea at the time but BoB would make take his uniqueness and make it work for him on a level no other Bucket has ever done before.
BoB is a nickname for Buckets of Banners which is positioned to become one of the most effective banner advertising websites on the net.
Brad Webb & Paul Coonan of State-Of-The-Art-Mailer and vTrafficRush are employed by BoB.
BoB Is NOT Your Ordinary Banner Advertising System!
Brought to you from the State-Of-The-Art-Mailer & vTrafficRush guys, BucketsOfBanners is a banner exchange with a twist. Even non-site owners can earn impressions and get ads seen across the network.
3 Ways To Earn Banner Impressions:
Promote Your Interactive Splash Page: BoB Members – 1 to 1 ratio. Club BoB Members – 3 to 1 ratio.
Surf The Banner Area: BoB Members – 0.5 to 1 ratio. Club BoB – 4 to 1 ratio.
Banner Code Plugged In Your Website: BoB Members – 0.5 to 1 ratio. Club BoB – 1 to 1 ratio.
"Club BoB" Membership
4.0 Impression Per Banner Page Surfed
3.0 Impression Per Display Of Interactive Splash Page
1.0 Impression Per Display Of Banner Code
Interactive Splash Page "Click" Bonus
Exclusive Interactive Splash Page Placement
Exclusive Viral Signup Multi-Rewards
By now, you probably know that BoB stands for BucketsofBanners
and that BoB is rapidly becoming one of the premier Banner
Exchanges on the net with an unusual viral twist not found in
Banner Exchanges.
What you might not know is that there is only ONE upgraded
membership on BoB and it is loaded with privileges that can do
what most struggle with which is …. Recruiting and Branding!
4 Club BoB Exclusives:
1) Get Your Link Promoted Without Promoting Yourself – We are
constantly promoting the Club BoB link out in the marketplace
just like we are with this ad now. That link rotates all Club
BoB members affiliate links.
2) Others Build Your Brand – The Interactive Splash Page has
prominent brand placement that randomly shows 4 OTHER Club
BoB members branding even if they are not promoting themselves.
3) Infused Click Incentives – A sign-up bonus is infused in the
sign-up process for new members only on Club BoB banners.
That means Club BoB members are experiencing higher click rates
on their banners.
4) Surf and Login Ad Exclusives. As a Club BoB member, you
automatically gain login ads and surf ads as a part of your
membership. You just need to have credits assigned to your banner
and it is running automatically in those two areas.
Get in the Club already and get some help building your business
without breaking your back doing it all yourself.
We are going to use this banner network as a large part of our "Big Ass Banner Plan". If you are not familiar with that plan, then I suggest that you read the article HERE.
I like Buckets Of Banners quite a bit. I think the value for the money is insane. There is only one thing I do not like about it. This may be just a personal opinion but I feel like there some kind of incentivised going on with this banner network. This can give you the initial feeling of making more progress in your business because more people are clicking on your banners and seeing your page, right? Well, possibly. However, I find it much more easy to work my metrics when all the clicks to my banners are indeed organic. This means that people clicked them out of sheer and honest curiousity and not because there some kind of small reward or incentive for clicking these banners.
Don't get me wrong! I still love BOB and he/she (I don't know which gender BOB identifies as) will still play a huge part of our overall banner strategy in our "Big Ass Banner Plan". Simply watch the video above in order to see how this will play a very pivotal role as we go forward with this plan of attack regarding our guerrilla marketing goal of having our ads seen basically EVERYWHERE across the internet on sites that will have an audience of people who would be interested in what we have to offer. (In out case it would be the downline builder ViralStacking.com and all the programs within.
You can sign up for BOB by clicking the big banner below but remember the optional upgrade will make this "Big Ass Banner Plan" work even better.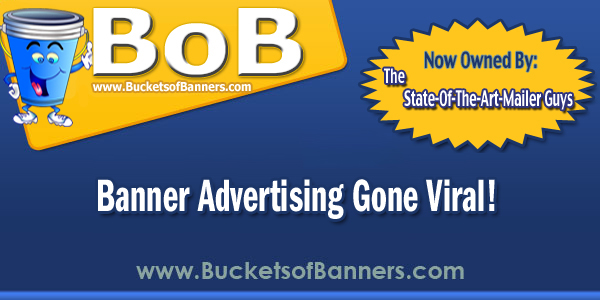 If you would like a step by step guide of how to create a Plug-N-Play Cryptocurrency portfolio built from Bitcoin, Ethereum, Litecoin and many other quality coins (some of which that pay you just to own them!), click the banner below:
Dan Watson and Arkham Industries provide an informational service only and are not responsible for any investments made applying this information. The results described are not typical and are not guarantees of future income. Any investment contains risk and is 100% the responsibility of the investor to assess the risks/rewards involved. It is possible to lose some or all of your investment. We assume no liability assumed or implied for your application of the information shared from the training programs.
I am not a financial adviser and for that reason, nothing I say or write should be taken as financial advice. This information is for informational and entertainment purposes only. I am not the owner of any of the programs mentioned on this website. I am also not connected to the presented websites in any way, shape or form. There is risk involved in trading, mining, lending, staking and investing in cryptocurrency. So any previous payments made by any website or an investment fund do not guarantee that payments will be steady and regular in the future. I am not responsible if a website does not pay out or shut down at anytime. So Join at your own risk. This information is created as per my personal experience. I do not take any responsibility for any losses that may occur. I do not give any financial advise.
Earnings and Income Disclaimer. We make every effort to ensure that we accurately represent these products and services and their potential for income. Earning and Income statements made by its' customers and/or I are only estimates of what we think you can possibly earn. There is no guarantee that you will make these levels of income and you accept the risk that the earnings and income statements differ by individual. As with any business, your results may vary, and will be based on your individual capacity, business experience, expertise, and level of desire.