POS or Proof of Stake coins are growing more and more popular but a lot of people cannot afford to own enough coins to get a reasonable return or own their own Masternode. For the uninitiated, POS is where you hold your coins in wallet and 'stake' them and receive extra coins as a result. This can be quite profitable, but of course the value of a coin can itself decline as well as go up.
The benefits of staking in a pool is that you do not have to keep lots of wallets open 24/7 saving on electricity and you can benefit from higher rewards than if you staked alone. You can even stake small amounts of coins and benefit from being in a large pool.
Where StakeCube gets interesting is that from their 3% fee (from Stake profits – you never pay anything to them) they take 1% and split that between airdrops and lottery. Everyone will get an airdrop of all coins, even coins you don't hold and you can then stake these. You can see the compounding benefits of this.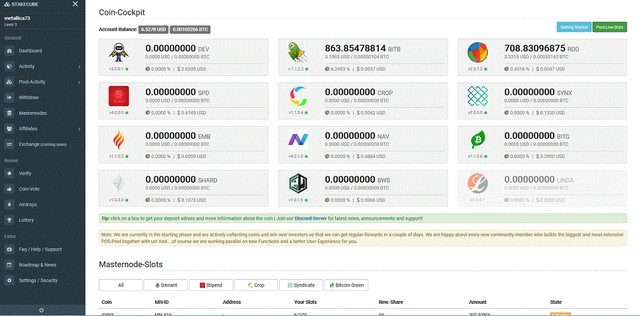 The GUI / User interface is absolutely superb with all the information you would want, and literally everything is transparent and can be followed on the Blockchain. You can see what percentage of each pool you own. You can withdraw your coins at any time and with zero fees.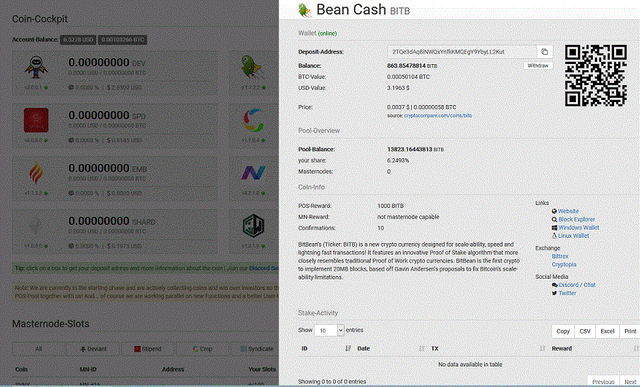 To deposit coins you simply click on the coin name and an in-browser window pops up with a deposit address as well as lots of other useful info about the coin including which exchanges support these coins – that's important as lots of POS coins are quite small and will not be on the larger exchanges. Any coins you do deposit can also be added to a pool Masternode for greater returns.
This is great and all but I am not going to ask you to come out of pocket to be able to afford staking some of these coins that they offer.
Instead, we are going to go a different and much less costly route and use their faucets in order to generate some startup coinage to be able to stake.
It's really as easy as this…..
Sign up, and verify your account.
After verifying, you can use the faucets (they contain no ads at all!) or deposit coins to start staking.
Their wallets are up 24/7 which means you always receive staking rewards.
Various coins such as Reddcoin can be staked this way.
These are now well over a dozen faucets on Stakecube that you can use for FREE:
See below for an example of my staking rewards and for how many time it takes for you to get rewarded..
Stakecube is an excellent way to earn some extra cryptocurrency and to get free staking coins!
If you need a place to buy or sell the coins listed on Stakecube, don't worry because they have their own exchange! This means you can trade in however much you want of any coin you want for BTC if you like!
Simply go to your back office and click on the "Apps" button near the top. This will pop open a drop down menu from which you will click "Community". After that, you will click the "Faucets" tab near the top-middle of the screen. Then, just go down the row of green boxes and click claim on each one.
Whenever you click on a coin to claim the faucet, they automatically make a wallet for you that you can use in the future. You don't have to download anything for that. When you claim they deposit the coins in your account and it will be staked directly, no effort required on your part. Yes, you can do both! We will want to make sure that we are consistent and log into StakeCube every single day to claim all the coin that we can. This will speed up our staking for each coin by a considerable amount
You can sign up for a FREE account to claim all these faucets in one convenient spot everyday just by clicking the banner below:
February 2022:
LTC 24%
DASH 13%
SCC 9.2%
MONK 7.8%
KYDC 6.5%
BITB 2.6%
BTC 2.5%
DIVI 2%
BBK 0.9%
MERGE 0.8%
RDD 0.7%
PIVX 0.6%
MMT 0.6%
XP 0.5%
ASAFE 0.3%
CTSC 0.3%
PRIV 0%
DOGE 0%
DAPS 0%
GBX 0%
DGB 0%
DOGEC 0%
AEM 0%
USDT/ERC-20 0%
MMO 0%
NAV 0%
VSX 0% (or might as well be)
TUP (maintenance)
ESBC (maintenance)
If you would like a step by step guide of how to create a Plug-N-Play Cryptocurrency portfolio built from Bitcoin, Ethereum, Litecoin and many other quality coins (some of which that pay you just to own them!), click the banner below:
Dan Watson and Arkham Industries provide an informational service only and are not responsible for any investments made applying this information. The results described are not typical and are not guarantees of future income. Any investment contains risk and is 100% the responsibility of the investor to assess the risks/rewards involved. It is possible to lose some or all of your investment. We assume no liability assumed or implied for your application of the information shared from the training programs.
I am not a financial adviser and for that reason, nothing I say or write should be taken as financial advice. This information is for informational and entertainment purposes only. I am not the owner of any of the programs mentioned on this website. I am also not connected to the presented websites in any way, shape or form. There is risk involved in trading, mining, lending, staking and investing in cryptocurrency. So any previous payments made by any website or an investment fund do not guarantee that payments will be steady and regular in the future. I am not responsible if a website does not pay out or shut down at anytime. So Join at your own risk. This information is created as per my personal experience. I do not take any responsibility for any losses that may occur. I do not give any financial advise.
Earnings and Income Disclaimer. We make every effort to ensure that we accurately represent these products and services and their potential for income. Earning and Income statements made by its' customers and/or I are only estimates of what we think you can possibly earn. There is no guarantee that you will make these levels of income and you accept the risk that the earnings and income statements differ by individual. As with any business, your results may vary, and will be based on your individual capacity, business experience, expertise, and level of desire.