Grab.tc Review: SCAM or LEGIT ?
Are you looking for a way to make money without investing anything out of pocket? This is the right platform for you. Not only are you going be able to earn effortlessly but both actively AND passively. Awesome, right? If I were to say that this site has a lot to offer, that would be a heck of an under statement. It has oodles and oodles of features. You can take you time and explore everything if you want to but I am only going to ask you to focus on a few key methods of earning with this platform.
Then you can create an account by putting your username, email, and password and etc…
So, get to it. Start earning BTC by completing simple tasks every hour, every day with this unique platform it can really add up fast. (Especially when you focus on at least the first four methods I am about to show you) Perhaps you're wondering what simple tasks? Here a list of them:
EARN SATOSHI WITH THESE METHODS…..
#1. Faucet: Claim bits (fraction of BTC) for just rolling a number. You can earn up to 10.451 bits. It's available every hour.
#2. PTC ads: click and visit the ads available, wait up to 30 seconds, complete the captcha and that's it!
#3. CPU mining: Just click on start and earn bits without doing anything. You will mine, 40.000 hashes=1 bit.
#4. Install and use the Brave browser, you will earn in a passive way. Just use it.
#5. Visit short links: There are more than 50 short links available every 24 hours for you to visit and earn bits.
#6. Jobs: Do the jobs offered and earn up to 2.000 bits. You have to show proof of the job completed. Fake proofs will reduce your BTC.
#7. Investment game: Predict if the price of BTC is going to go higher or lower in the next 5 minutes. You will get paid 1,3x if you're trade is successful.
Additional methods to earn satoshi with this platform:
OFFERS
There's a section of offers where you can play games, complete surveys, visit websites, install apps, and more and be credited for that.
CONTESTS
There are contests of referrals, short links and offer walls. Be in the top 10 and earn thousand of bit, million even.
LOTTERY
There's a lottery every month. You can buy tickets with your bits and ear thousand bits.
As you can see there's a lot to do and if you're persistent, dedicated, hungry, you can really earn a lot of satoshi and use that to get more involved in our PASSIVE PLAN. You can withdraw your earnings to your FreeBitcoin wallet and start earning passively on them.
Now Let's Talk About Earning
How should I use grabtc?
There are many, many ways to earn with GraBTC but we are going to focus on the first four methods listed below. If you want to explore some of the other ways to earn that are listed to, you are more than welcome to. That will only help you reach your withdraw minimum even faster!
#1 Method
First of all, grabtc is a faucet. That means, you can earn money with their faucet. You can claim once every 60 minutes and roll their dice. The higher you roll, the more Bits you get. Be aware, you earn Bits on grabtc. 1 Bit has a worth of 1 Satoshi. If you manage to roll 99999, you even get 300,000 Bits. Their Faucet is an active way to earn satoshi but that in itself isn't even the best paying faucet around. While I DO encourage you to log in a couple times a day hit hit up their faucet, the real power of this site is even cooler and more powerful. This picture show you pretty much everything you need to know about the faucet.  
#2 Method
You can also watch their PTC ads. You have to click on their ads, wait some seconds and solve a captcha. Sadly, you have to keep the focus on the tab, meaning you can't do other stuff meanwhile. But that's not that bad, because you just have to stay for a few seconds on the site. The earnings on the PTC portion is not amazing but there are not that many of them usually so it should not take you long and this is just another active method to earn on this site to speed up your earnings with the next couple passive ways!
#3 Method
One of the best ways to earn with this platform is their passive CPU mining. All you have to do is turn it on and let it run! Just click on start and earn bits without doing anything at all. At the time of writing this, You will mine, 40.000 hashes=1 bit.
#4 Method
Another great way to earn passively with GraBTC is just a bit more complex but so much more worth it. That is their Brave browser cashback offer.
#5 Method
If you want to earn even more Bitcoin, you can do their shortlinks. There are a lot of different shortlinks and you get between 4 and 10 Bits for each shortlink.
#6 Method
The next method to earn some Bitcoin at grab.tc are their jobs. They have a lot of different jobs that pay really well. For example, if you make a video about grabtc, you earn 300 Bits.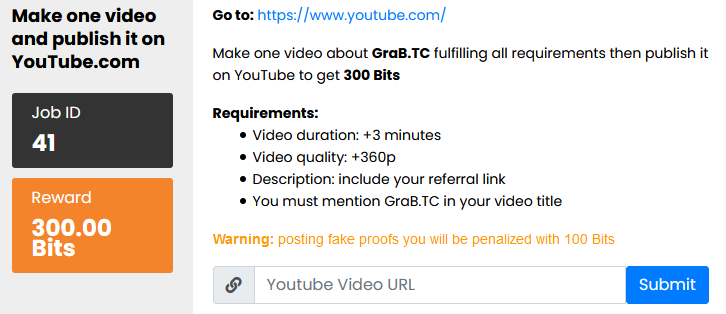 #6 Method
Investment game: Predict if the price of BTC is going to go higher or lower in the next 5 minutes. You will get paid 1,3x if you're trade is successful.

What else can I do at grabtc?
You can also place your own ads there. If you have a blog, a forum or just want to promote a referral link, you can make an ad at grabtc and the users will watch them.
What about the referral system?
If you manage to refer someone to grabtc, you get a comission of 12 % of all faucet claims. You also get 3 % of their earnings from an offerwall and 1 % from the earnings from shortlinks. grabtc also offers different memberships. The better your membership is, the more you can earn, but it's not worth it without a lot of referrals. Because if you become a member, you earn more from your referrals and without any referrals, you will lose money. If you just want to claim from their faucet, you shouldn't invest your money in a membership. You can still withdraw your money, even as a free member.
How can I withdraw Bitcoin from grabtc?
To withdraw your Bitcoin, you need to claim at least 20 times from their faucet. The minimum amount is 20,000 Satoshis to your wallet.
Also, remember to add your payout addresses by visiting "Account>Account Settings" page
My conclusion for grab.tc?
grabtc has already set a new standard for faucets. It makes nearly everything perfect and if they can keep it up and running and continue to tweak a few things, grabtc will be the perfect example of a good faucet. You can really feel the dedication of the admin, everything is really intuitive and easily accessable. It's also not overloaded with ads like other faucets. If they keep it up for a year, it will be the first faucet we will rate with 5 stars. Because it is THAT good. You should really try it for yourself and enjoy the experience. It's fun to use grabtc and you get paid for it. Awesome!
If you would like a step by step guide of how to create a Plug-N-Play, passive earning Cryptocurrency portfolio, Then get your $300 signup bonus NOW and collect crypto coins, referrals, commissions, advertising, profits and results with blinding speed! Simply click the banner below to get started:
Dan Watson and Arkham Industries provide an informational service only and are not responsible for any investments made applying this information. The results described are not typical and are not guarantees of future income. Any investment contains risk and is 100% the responsibility of the investor to assess the risks/rewards involved. It is possible to lose some or all of your investment. We assume no liability assumed or implied for your application of the information shared from the training programs.
I am not a financial advisor and for that reason, nothing I say or write should be taken as financial advice. This information is for informational and entertainment purposes only. I am not the owner of any of the programs mentioned on this website. I am also not connected to the presented websites in any way, shape or form. There is risk involved in trading, mining, lending, staking and investing in cryptocurrency. So any previous payments made by any website or an investment fund do not guarantee that payments will be steady and regular in the future. I am not responsible if a website does not pay out or shut down at anytime. So Join at your own risk. This information is created as per my personal experience. I do not take any responsibility for any losses that may occur. I do not give any financial advise.
Earnings and Income Disclaimer. We make every effort to ensure that we accurately represent these products and services and their potential for income. Earning and Income statements made by its' customers and/or I are only estimates of what we think you can possibly earn. There is no guarantee that you will make these levels of income and you accept the risk that the earnings and income statements differ by individual. As with any business, your results may vary, and will be based on your individual capacity, business experience, expertise, and level of desire.