It seems like every time I turn around, there is another rewards site popping up and getting promoted by everybody. I'm going to be honest though. Most of them are just a copycat of another with all the same offers, all the same surveys and all the same PTC ads….
(YAWN)
There needs to be something different about a rewards site to really get me to stop and take notice. It has to have a unique spin to it or some handy feature that most don't have. On the surface, RewardXP looks exactly like most sites that it is competing with. Seems to be a copycat right from the start. The surveys look the same, the offer wall looks the same, the ads look the same and even the videos look the same. Or do they?
I will want to go over some o the overall features of this site before I reveal what makes it different and why we might want to consider this to help speed up building our seed coin.
So, let's get right into it!
---
[Affiliate Disclosure: This post may contain affiliate links which means I may earn a small commission if you purchase anything through one of the links. However, this will not affect what you get paid!]
---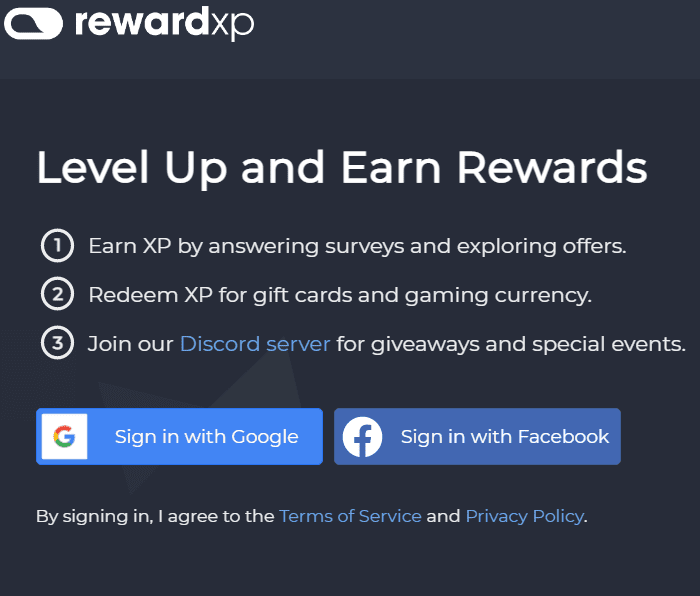 Reward XP is a get paid to or GPT site that allows its members to earn compensation by doing various simple (and usually quick) tasks.
These are tasks like taking surveys, offers and even watching videos as well.
One thing that makes Reward XP is a little different to most Reward/GPT sites is that it is more tailored for gamers but don't let that deter you from using the site if you are not a gamer because there are many other methods to earn here. The methods I am most excited about actually has nothing to do with the games.
RewardXP is a relatively rewards website that launched in 2019 and is based in the state of Florida, U.S.A. It is a relatively new opportunity and that means there isn't going to be too much data around for it yet although the current ranking on Trustpilot does seem very promising.
How does Rewards XP Work?
Becoming a member of Rewards XP is extremely simple. All you have to do when at the signup page is click on Google or Facebook and you are in without having to reply to an email to activate your account. Kinda slick, right? I like that part a lot!
Once you're in the member's area and looking at the dashboard, the first thing you will notice is just how simple and basic the platform actually looks. You might even be tempted to draw the wrong conclusions based on that as well.
But wait, before you do draw your own conclusions, stay with me just a bit longer.
There are 3 options you have to make money
Earn, where you have access to surveys, offers and videos
Explore, where there are games, apps and signups
Engage, where you have access to giveaways and contests
Playing Games
As briefly touched on earlier, there is specific attention to gamers which is what the platform was developed to cater to.
To get to the games section, all you have to do is click on the "Explore" tab and you will see that they are listed in categories as listed below:
Desktop games
Android games
iPhone games
iPad games
(Another thing you may also notice is that there are more games under the Android option)
You will have to play the games and get to a certain level within the corresponding game in order to earn the rewards.
Once that level has been achieved, you will then be awarded the points and you can leave the game if you choose to at that point.
Remember, when playing these games, you are helping the people who developed the games and if you genuinely enjoy playing them, then this will be something you will do often.
Surveys
Surveys are just one way to earn points at Reward XP.

One thing to know is that you will not qualify for a large percentage of the surveys and the ones you do qualify for might still be disqualified.
(Even after spending several minutes doing a survey)
Please remember that this isn't the responsibility of Reward XP but the 3rd party site, whoever that may be.
Surveys are not my personal cup of tea but if you like them, then by all means, use them to boost your points here even faster. However, this is not the aspect we will be focusing on.
Paid Offers
You can find paid offers next to the "Surveys" tab.
Once again, just to give you the heads up, these are third party websites that you will be redirected to. This is normal for rewards sites and nothing to be shocked or worried about.
You can expect to find an entire selection of offers such as…
Free offers
Additional surveys
Shopping
Signing up to offers
Downloading more games
Different Competitions
Plus many, many more…
Just a word to the wise here…..
Please remember that some of the trial offers in this section are for a certain period of time and after that time expires you will be charged. So, if you don't want to subscribe and only want to check out the service or product then remember to cancel before your trial period expires.
Watching Videos
You can actually earn points through watching videos which is a bit dull I know. But, the points all go to your overall cash out total. I am also going to show you something that will speed up this video earnings much more than most other video earning sites!
You can find videos next to the "Offers" tab.
Right now where I am geographically there are 2 video providers in my back office but this might change based on your physical location.
You only get points at Hideout.tv for watching the adverts between the videos so remember not to hit the "Skip" button.
Videos are another common task that you see on rewards sites that are also on this one. And, yes, you can really get paid for just watching videos – as crazy as that might seem.
These videos are provided by a 3rd party provider in Hideout TV as well as Loot.TV who provide videos for many other popular GPT Sites.
Just a quick heads up though, you will need to disable any ad-blocker that you are using to have the videos display properly.
To earn you must watch at least 3 videos before you are accredited with your reward. Videos typically will earn you X points, meaning 3 videos will earn you 3X points.
For each ad that you view on Hideout TV, you will earn a number of loyalty points which you can also convert to Rewards XP via their loyalty program.
There are, at least in theory, an unlimited amount of videos available for you.
Something off about Hideout, worthy of nothing is you will earn more watching their video through Rewards XP than from their own site and most other rewards sites. The same can be said of Loot.TV as well. I have personally tested transferring points from both these video providers to any of these rewards sites that will let me just to test the conversion rate of each. Some of the results as pretty shocking. I found for instance that as much as I love Cointiply, the conversion rate sending points there from HideoutTV is downright robbery and you will earn almost TWICE that point value by sending HideoutTV points here to RewardXP as opposed to Cointiply.
The other great part which I hinted at earlier was that in addition to videos being available from Hideout.TV (which is probably the most well known video provider for this type of rewards site) they also allow you to transfer points from another video provider, Loot.TV as well. This in itself is not extremely rare or amazing because lots of sites actually use Loot.TV as one of their video providers.
However, the greatest part about RewardXP in my opinion (other than the ranking system explained below) is that  you can transfer points from BOTH HideoutTV & LootTV AND still get pretty much the best conversion rate out there on both of them! This means you will be able to cash out about twice as fast if you have videos from both providers going!
A quick mention of points and how they relate to cash…
10,000 points equate to $1 so you will be looking at something like below for various amounts
Points at Rewards XP are defined as "XP" and the monetary conversion rate is as follows:
$0.10 = 1,000 XP
$0.50 = 5,000
$1 = 10,000 XP
$5 = 50,000 XP
$10 = 100,000 XP
$100 = 1,000,000 XP
The ranking system…
This is one of the two things I am most excited about when it comes to this reward site. This is one of the two things that makes it really unique and worth actually putting to work for you. The more you are active on Reward XP, the higher you will rise in the ranking levels. This means it can unlock a lot of rewards for you and will actually help user retention quite a bit for anybody you refer to this website using your affiliate link. This system helps keep people consistent with their usage of the site and if you referred that person, it keeps your referral commissions coming in steady as well. These are both important things to consider when promoting a system such as this which has an affiliate link. You want there to be a lot of user retention and things like the video points mentioned above and this ranking system are two things that can help with that a LOT more so than most of this sites competitors.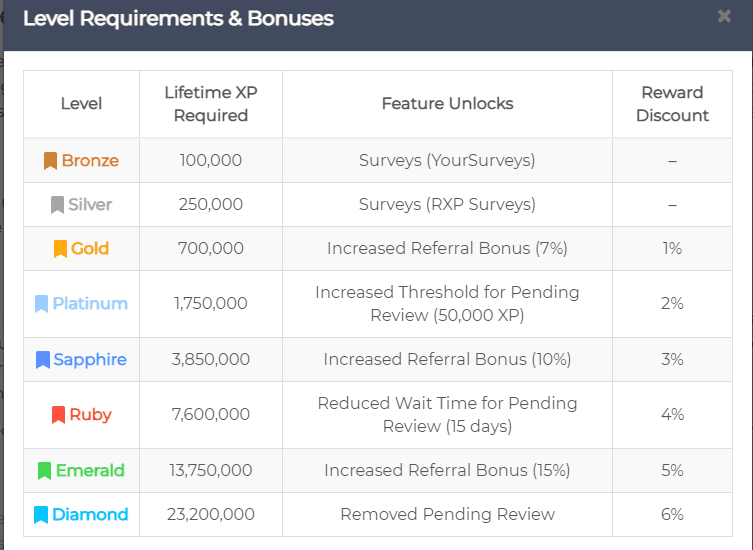 By achieving the higher levels, Reward XP gives you access to additional benefits and bonuses. Once you have reached these levels, you are there for life, meaning they do not go back to zero over a period of time. Pretty sweet deal if you ask me!
Referrals
Every member has their own unique affiliate link which can be found by clicking on your account.
Referring other people to join is rewarded by earning a percentage of whatever your referral makes and that's for life.
This varies from 5% to 15% which is dependent on how active you are and where you are within the ranking levels. (As explained in the image above)
Referrals who join with my link can receive 5,000 points just for trying it out!
A lot of people tend to invite their family and friends.
What I hate seeing however is people adding this link all over the place on social media, in forums, and in comments on other peoples videos in the hopes that someone will click on the link and join. I can tell you right now that this is extremely spammy and doesn't work, but if you know how to do this correctly, it can be extremely profitable.
Let me explain…
Let's say you follow the trainings in ViralStacking.com on how to get referrals and you put that into practice by building a list. At that point, it shouldn't be too hard for you to get 100 people to join RewardXP by using YOUR affiliate link in the downline builder at ViralStacking.com
So 100 people join and let's say each one of those referrals earns roughly $10 a week.
Remember the ranking system? Well, depending where you are on that ranking system, your commissions might look something like the following:
100 refs * $10 = $1,000  – commission @ 5% = $50/week, $200/month
100 refs * $10 = $1,000  — commission @ 10%=$100/week, $400/month
100 refs * $10 = $1,000  – commission @ 15% = $150/week, $600/month
As you can see, this is a website that has it figured out when it comes to lucrative compensation plans! It literally pays to not only be loyal and consistent here but to get referrals to do the same!
How you get paid
The minimum payout threshold for most payment types is $5USD which equates to 50,000 XPpoints.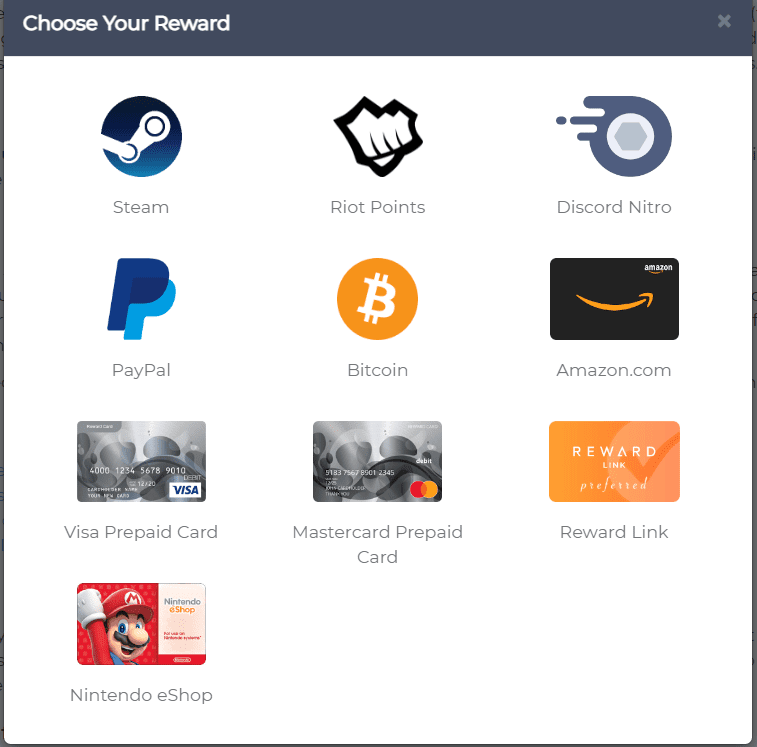 PayPal is the normal payment method that people would use but there are a few other methods that you could use and even Bitcoin. There should be no surprise when I say that Bitcoin is the only option I will be using to cash out despite it having a higher minimum threshold than the other methods. The fact we can turn in points from BOTH video providers here AND for such a good exchange rate means we will reach that higher minimum withdraw even faster. Add a few referrals into the mix after you have ranked up a bit and you could literally be cashing out in Bitcoin every single week. I know that is MY plan!
One more word about the points system here. While there are currently no restrictions on how long you can store your points, you DO have to be active within 12 months of the last time you signed in. Otherwise you will end up losing your points. Just wanted to be upfront and transparent with you about that part.
What I liked about Reward XP
There were a few things we liked about RewardXP

 and we have highlighted the ones we think are most important.
TWO Video Site Points Transfer With GAREAT Exchange Rates
We talked about this in detail but this is the number one feature that makes me love this platform.
The Ranking System
As mentioned earlier, this will help so much with retention for users of this website. I know that I myself cannot wait to start climbing my way up that board and getting a bigger and bigger referral commission every time I do!
Plenty of ways to earn
There does appear to be a fair selection of additional tasks other than surveys at your disposal.
This should keep you active on the system.
Good support
Normally with GPT sites, the support is usually somewhat lacking, but we can see that support at Reward XP appears to be quite good.
I was EXTREMELY impressed when I saw the following on Trustpilot.
You can also see that the owners are active within the platform which is always a good thing.
Low payout threshold
The low payout threshold of $5 is very good especially as it shouldn't take you too long to reach, even if like me, you choose to withdraw in Bitcoin.
If you are already a member of ViralStacking.com then I suggest joining this website under your sponsor by clicking the link in the downline builder section. If you are NOT a member of ViralStacking.com yet, what are you even doing with your life? Either way, you can create a FREE account over at RewardXP by simply clicking the image below: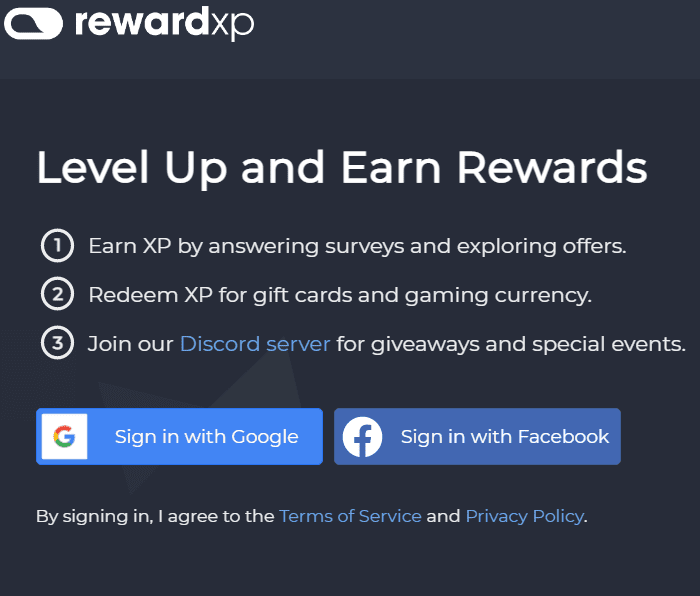 If you would like a step by step guide of how to create a Plug-N-Play, passive earning Cryptocurrency portfolio, Then get your $300 signup bonus NOW and collect crypto coins, referrals, commissions, advertising, profits and results with blinding speed! Simply click the banner below to get started:
Dan Watson and Arkham Industries provide an informational service only and are not responsible for any investments made applying this information. The results described are not typical and are not guarantees of future income. Any investment contains risk and is 100% the responsibility of the investor to assess the risks/rewards involved. It is possible to lose some or all of your investment. We assume no liability assumed or implied for your application of the information shared from the training programs.
I am not a financial adviser and for that reason, nothing I say or write should be taken as financial advice. This information is for informational and entertainment purposes only. I am not the owner of any of the programs mentioned on this website. I am also not connected to the presented websites in any way, shape or form. There is risk involved in trading, mining, lending, staking and investing in cryptocurrency. So any previous payments made by any website or an investment fund do not guarantee that payments will be steady and regular in the future. I am not responsible if a website does not pay out or shut down at anytime. So Join at your own risk. This information is created as per my personal experience. I do not take any responsibility for any losses that may occur. I do not give any financial advise.
Earnings and Income Disclaimer. We make every effort to ensure that we accurately represent these products and services and their potential for income. Earning and Income statements made by its' customers and/or I are only estimates of what we think you can possibly earn. There is no guarantee that you will make these levels of income and you accept the risk that the earnings and income statements differ by individual. As with any business, your results may vary, and will be based on your individual capacity, business experience, expertise, and level of desire.