I was always bad at math in school. In fact, in grade school I actually got held back a year in math. However, statistics was the only type of math that made any sense to me because I could easily see its use in the real world. Speaking of stats, I want to go over an interesting one with you. Did you know that in 2018, the average American drove 13,474 miles in a vehicle that gets 24.9 MPG, paying $2.72/gallon, for a total of $1,471.86!?
Now, keep in mind that was 2018 and prices have not gone down since then. In fact, I am sure most of you know as of the time of the writing, lots of places in the USA are darn near DOUBLE that gas price! Let's face it. It REALLY hurts at the pump these days. I don't know about you, but my old offroad truck I love and drive on a daily basis doesn't exactly get the best fuel mileage and I could sure use a little relief at the gas station.
How The GetUpside Gas App Works
It's not nearly as complicated as you may think it is.
Step 1: Sign up.
Download the free app for iOS or Android, then sign up.
Step 2: Activate an offer.
If you forget to activate the offer before making your purchase, you will not receive a cashback reward. To activate, click "Claim" (as shown in the image below).
Step 3: Link a payment card.
If you want to skip the receipt upload process (which I highly recommend), GetUpside needs to be able to link your purchases with your check-in.
In order to do so, you need to add at least one credit or debit card by inputting the first six and last four numbers of the card in the "My Wallet" section of the app. (Note that "My Wallet" may not appear until after you claim a check-in offer.) This means you have pretty much zero risk when it comes to security because it is going to be next to impossible to do anything illegal with your card with only those numbers!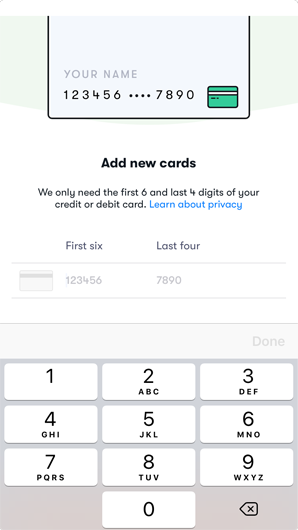 Step 4: Check in when you arrive at the merchant, if possible.
Not all merchants can accommodate a check-in. Check the app for a blue lightning icon next to the business's name to know whether check-in is available. If it is, press "Check In" when you arrive.
Note that you will need to share your location data to use this feature; however, you can select "While Using" in your phone's settings to limit the app's access.
Step 5: Fill up your gas tank, eat your meal or buy your groceries.
Make your purchase within four hours of claiming your offer (24 hours for grocery stores). The app will show pertinent details for each offer — e.g., whether the discount applies to a certain grade of gas, or if there's a cashback limit for the transaction.
Step 6: Pay with a linked card.
When you check in, pay using a linked card (see Step 3 above). If GetUpside can't match your purchase with you will not get a cashback reward.
Step 7: Get paid.
Once your purchase is confirmed, the cashback for your transaction shows in your account balance.
Step 8: Cash out.
Your cashback will accumulate until you withdraw the money or exchange it for a digital gift card.
Getting Cash Back at Restaurants
Depending on where you live geographically, you may find GetUpside offers significant savings on your favorite restaurants and fast food places as well as gas.
The company has negotiated cash back deals you won't find anywhere else, and using the app means not having to deal with coupons or explaining discounts to staff. (Can I get an Amen?)
Get Up to 35% Cash Back at Restaurants
When you claim a restaurant cash back offer, you'll get cash back on your entire dining bill before taxes and tip.
There are no limitations on which dishes you can get cash back on at the restaurant.
Limits on Restaurant Cash Back
A restaurant cash back offer is good on anything the restaurant serves, but the restaurant may cap the amount you can get back. If so, you'll see that in the app before you claim the offer.
How to Get Cash Back at Restaurants
This process is just about identical to the process for gas. Restaurants offering GetUpside cash back will show up on the same map as gas stations.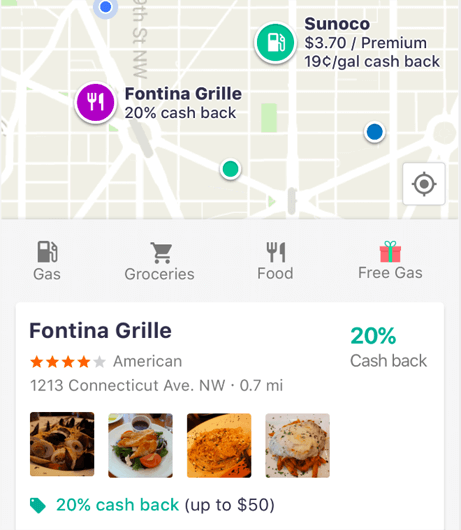 When you click on a restaurant you'll see its address, the cash back offer and photos of the kinds of dishes it serves.
At that point, you can claim an offer, have your meal, and complete your credit or debit card purchase within four hours.
Deliveries and meals paid with cash are not eligible for cash back.
Getting Cash Back at Grocery Stores
Yes, that's right! GetUpside also offers cash back on grocery shopping as well.
At GetUpside's participating grocery stores, you can save on your grocery bill with the GetUpside app up to twice per week.
Get Up to 15% Cash Back on Groceries
You'll find grocery cash back offers of up to 15%.
There are no limitations on which products you can buy. You'll get cash back on every product and brand.
You can also stack the GetUpside cash back offer with any other coupons, discounts, or loyalty programs that you have at the grocery store. This means that you can really stack your savings!
Limits on Grocery Store Cash Back
Although you're not limited on which products you can buy, you may see a minimum purchase amount and an upper limit to the cash back amount.
Also important to note: Foodstamp, SNAP, WIC, and EBT purchases are not eligible.
How to Get Cash Back at Grocery Stores
As with gas stations and restaurants, participating grocery stores will show on the app's map.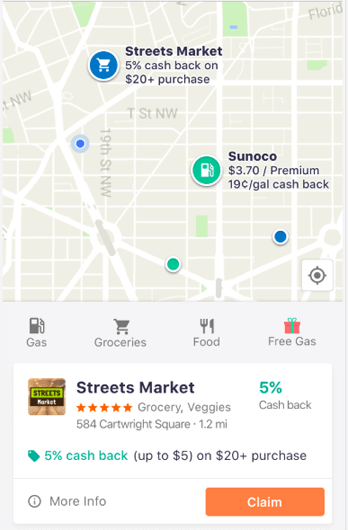 Click on a store to see the address and the cash back offer.
Claim your offer, do your shopping, and complete your purchase within 24 hours, paying attention to any minimum purchase required.
Getting Paid
Now, lets talk about the fun part!
Once you do acquire enough earnings to cash-out, GetUpside offers a very generous selection and relatively fast payment processing, though whether there is a fee (and how long it takes to receive your money) depends upon the cash-out amount and method.
Redemption Options
The available redemption options and corresponding fees are:
Cash via PayPal: A $1 fee applies if the cash-out amount is under $15.
Cash via Bank Transfer: A $1 fee applies if the cash-out amount is under $10.
Digital gift card: No cost, but most cards have a minimum threshold (typically $10).
Estimated Time To Cash-Out
GetUpside's cash-out timing also varies by method.
PayPal: Funds arrive in PayPal accounts within 48 hours of email verification completion (which involves clicking a link that GetUpside emails you after you request a cash-out).
Bank Transfer: Funds are deposited within three business days of request.
Digital gift card: Gift cards are e-mailed within 48 hours of request.
Earn More Cash Back With Referrals
This is the part that I am actually MOST excited about. This can almost count as passive income. (albeit a somewhat small stream) When you get someone to sign up for GetUpside with your referral code, you'll get cash back on your next gas purchase. But it gets even better!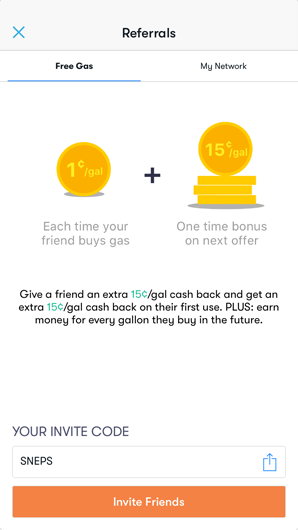 In addition to your one-time cash back offer for signing someone up, you'll also get cash back for every gallon of gas purchased by the person you referred to GetUpside. Heck yeah!
Not only that, but when they refer a friend, you'll get bonuses from their friend's gas purchases, too. Read that last line again. Let's say you refer Susan to the GetUpside app with your referrals link. Not only do you both get a sign on bonus the first time she fills up her tank using the app, but you also get a small commission every time she fills up her tank after that (as long as she uses the app). You keep getting paid over and over again. But THIS is where it has the capability to get REALLY profitable….
Let's say Susan loves the app so much, she tells her Husband Bill about it. (I'm not very good at coming up with unique names in these hypothetical scenarios!) Bill drives a big truck 95 miles round trip to work and back everyday and has to fill up almost every other day. This means you will be getting a commission every time Bill fills up his gas hungry truck as well! Can you see how fast your commissions can add up using this app by just referring a few people?
Imagine you get you get 10 people using this app and half of them get someone else using it as well. That's FIFTEEN people who are indirectly giving you a commission every time they get gas for their vehicle! Most people fill up about once a week but some people fill up even more often than that. Imagine having 10-20 commissions hitting your account every single week from OTHER people just getting gas like usual!
This is where the network marketer part of my brain starts to run wild….
There are several programs that I have referred over a hundred people into. There are even a few programs that I have referred SEVERAL hundred people into. What would happen if I were to do the same to THIS program? What if I had a few hundred people referred into this program that purchased gas about once a week? What if only a QUARTER of those referrals decided to refer anybody else themselves. I think that would be more than enough residual weekly income in refrerral commissions to pay for the gas in my old offroad truck and then some! Think that would be enough to pay for the gas in YOUR ride?
Whether you're getting cash back on your purchases or your referrals' purchases, (or your referrals' referrals' purchases!) you'll be able to withdraw your funds at any time. 
Currently only gas purchases are eligible for referral bonuses, but according to the company they hope to add restaurants and grocery stores to the program in the future. This will potentially multiply your earnings on an exponential level!
Speaking of referral bonuses, you can get an EXTRA $0.15/gallon off your first fill up by simply clicking the banner below with your phone and signing up using the referral code: ARKHAM7275
If you would like a step by step guide of how to create a Plug-N-Play, passive earning Cryptocurrency portfolio, Then get your $300 signup bonus NOW and collect crypto coins, referrals, commissions, advertising, profits and results with blinding speed! Simply click the banner below to get started:
Dan Watson and Arkham Industries provide an informational service only and are not responsible for any investments made applying this information. The results described are not typical and are not guarantees of future income. Any investment contains risk and is 100% the responsibility of the investor to assess the risks/rewards involved. It is possible to lose some or all of your investment. We assume no liability assumed or implied for your application of the information shared from the training programs.
I am not a financial adviser and for that reason, nothing I say or write should be taken as financial advice. This information is for informational and entertainment purposes only. I am not the owner of any of the programs mentioned on this website. I am also not connected to the presented websites in any way, shape or form. There is risk involved in trading, mining, lending, staking and investing in cryptocurrency. So any previous payments made by any website or an investment fund do not guarantee that payments will be steady and regular in the future. I am not responsible if a website does not pay out or shut down at anytime. So Join at your own risk. This information is created as per my personal experience. I do not take any responsibility for any losses that may occur. I do not give any financial advise.
Earnings and Income Disclaimer. We make every effort to ensure that we accurately represent these products and services and their potential for income. Earning and Income statements made by its' customers and/or I are only estimates of what we think you can possibly earn. There is no guarantee that you will make these levels of income and you accept the risk that the earnings and income statements differ by individual. As with any business, your results may vary, and will be based on your individual capacity, business experience, expertise, and level of desire.